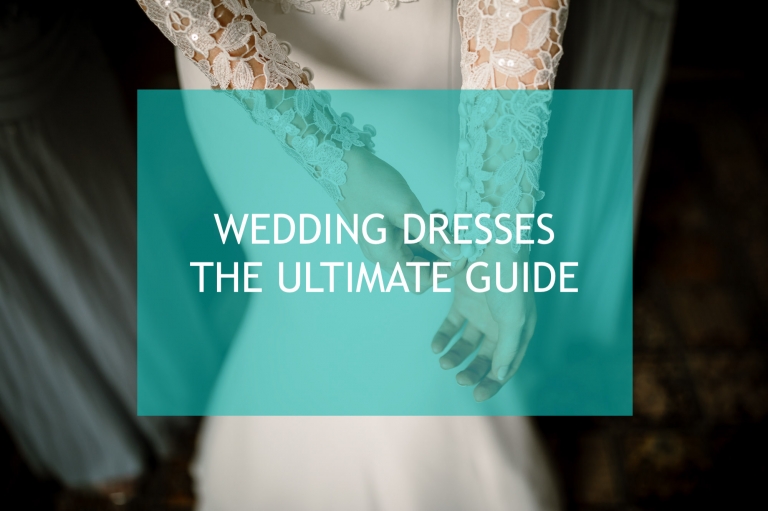 Todays Wedding Planning Tips article is all about … THE dress …
Like everything else with Weddings there is SO much choice out there … and yes it can be a bit of an overwhelming experience when you first start your journey.
So for this blog post I have brought in the expert knowledge from two of my favourite Boutiques …
The Little Pearl Bridal Boutique, Pickering North Yorkshire & lovely owner Diana:
And Dotty Bridal, based in Holmfirth near Huddersfield & gorgeous owners Shannon & Beth:
The first thing I will say about selecting your wedding gown … your service experience will play such a huge part in your whole wedding planning journey.
You want your bridal appointments and fittings with close family & friends to be a wonderful experience … and therefore it's no surprise that the service you receive from your bridal boutique will play a huge factor in this.
I will always recommend on Dotty & The Little Pearl because I know exactly how much value they place on customer service … their appointments are a completely immersive customer experience and their dedication and after care is second to none …
Much like anything else you choose for your wedding day I always suggest doing your research and finding out a bit more about the people behind the brand … stalk their social media pages read their testimonials … get a feel for their personalities and it will give you a feel for what your experience with them will be like.
So I'll hand over to the experts … of course with a few images thrown in for inspiration …
Diana from Little Pearl says …
"I was very honoured when the lovely Hayley asked if I would be one of her bridal gown shopping experts! Shopping for your gown should be such a special experience, but we find a lot of brides-to-be get a little overwhelmed or are unsure of what to expect, or if they will ever find their dream gown! Trust me, there is a gown out there for everyone, it's just a case of getting yourself in the right frame of mind. Having these guides to refer to is such a great idea too and I really hope you find it useful!"
GET INSPIRED
So the first place to start is to get inspired!  I don't think we have ever had so much information available to us when it comes to getting inspiration.  So get yourself a scrap book, Pinterest board (I'm sure many of you have already!) or make an album on your phone and go crazy!  Wedding blog sites are just fab for getting all kinds of bridal inspiration.  Just a few of our favourites are Brides up North, Love My Dress, Rock My Wedding, Style Me Pretty, So You're Getting Married, Wedding Sparrow, The English Wedding.  Then there's the bridal magazines and wedding exhibitions too.  Get an idea of what styles you like and who the designers are.  Have in the back of your mind your style of venue and time of year too.  This will help rule out or select certain gowns you are drawn too.
BUDGET
Have an idea of a dress budget before you start your shopping.  There is nothing worse than falling in love with a gown that is completely out of your price range. Having a budget in mind will help you spend more time trying on the amazing collection of gowns that are in your price range.  Make sure you discuss this with bridal boutiques too.  Ask what price range their gowns are before you visit them so you can make sure they are within your budget.
Little Pearl says … "Our gowns start at £1,000 and range up to £3,000 – with an average spend of £1,500 to £2,000. We also have a ready to wear studio with gowns ranging from £200 to £1,000 and these are available to take away on the day"
Dotty says … "Our gowns start at £1,200 through to £4,000 but we would say our average price point is £1,500 to £2,000. Look out for sample sales if you are on a stricter budget"
WHEN SHOULD I START DRESS SHOPPING?
Little Pearl says … "Planning a wedding can take quite a length of time – it is such an emotional journey that the more focused you can be about certain parts the easier everything can fall into place.  That is why we suggest you plan ahead and start shopping for your gown at least 10 months before your wedding.  If you are surprised at this, you are not alone, most people are!  If you do allow this time, it increases the selection of gowns you will have to choose from and if you decide you wanted something custom made it gives you that flexibility. Remember that we do have a range of ready to wear gowns available for immediate purchase"
Dotty says … "We recommend brides start looking for their gown around 12 months before the wedding. Your dress will arrive with us 12 weeks before your date when you will be invited in for a pre fit appointment before heading into final fittings with a seamstress 6 to 8 weeks before your big day. Don't panic if you have less than 6 months as we are able to get certain designers and styles in much quicker than this so we are always able to help"

TIME TO SHOP
Little Pearl says … "Now it's time to compile your dress shopping list!  If you have found a particular gown that you like and would like to try it on, check out the designers website for your nearest boutique stockist.  Give them a call and ask if they stock that particular gown, as not every boutique will stock the same gowns from the designers collection.  It is likely that they will then be able to request in a sample of that style from the designer for you to go and try.  You will need an appointment for most boutiques so it's good to call ahead anyway.  Remember Saturdays are always the busiest days so if you can do a week day, it may give you a bit more time. 
Once you have found your gown that boutique will be a part of your wedding journey for quite a few months!  So try and choose a boutique that works with you and cares about you too.  Someone you feel you'll be able to pick up the phone to and ask their advice about anything that's on your mind!"
Dotty says … "If you have seen a specific gown from one of our designers, but we don't stock it we can certainly look at bringing that in for you … there is usually a £50 fee for this which is refundable if you go on to choose your gown with us. We often get asked what size gowns we stock … our samples range from size 8 to 18, with the majority being a 12/14. But don't worry we have lots of ways to adapt a gown on you during appointments to ensure you get to see it as it would fit"
BE OPEN MINDED
Little Pearl says … "Gowns often look very different in pictures and on the hanger than they do when tried on, so shop with an open mind.  As much as you may have an idea of styles you like or don't like, don't be afraid to try something that the boutique stylist recommends.  You may actually love it, or not have considered it until you see yourself in the mirror.  I didn't think for one minute I would choose a gown with a blush pink overlay and a big bow on the back for my wedding day, but I did! I just felt amazing in it! Chat to your boutique about your wedding too.  Tell them about your venue, or theme if you have one.  This will help give them an idea of other gowns that will reflect everything perfectly."
Dotty says … "We advise you to pick around 4/5 dresses at the start of your appointment and then once we have a better understanding of what you are/not liking we will select some gowns that we think will be good for you.  Be open when it comes to trying different styles on, let us pick you ones out, as they are normally the dresses you end up going for. Don't forget we see lots on girls in dresses every day, and know what will suit your figure best. The dresses always look different on hangers. They also look very different on models you see online so be open minded and you will find the most perfect dress for you"
TOP TIPS
Little Pearl says … "There's a few things to think about ahead of your bridal appointment, like what's the best underwear to wear, what should you take with you?  To get the best idea of how your gown will look on the day, wear nude or white underwear to your appointment.  There's nothing worse than seeing a pair of red knickers through your gown!  A strapless bra is always a good idea too.  If you do have certain support wear that you want to wear, take it with you just incase.  Fake tan is a no no unfortunately, as it can rub off on the dresses, but do try and go with your hair done and a little make up on.  We all know how much that can make us feel better when trying things on that maybe don't fit completely perfectly!"
HOW WILL I KNOW IT'S THE ONE?
Little Pearl says … "Try and trust your instincts If you can't see yourself walking down the aisle in a particular gown, or you have to be convinced that it looks great on you, then it's probably not your perfect gown.  Don't worry if you don't get 'The One' feeling where everyone is in floods of tears like you see on TV!  Lots of brides don't get emotional, but it doesn't mean it isn't 'The One' and you don't feel and look amazing! "
Dotty says … "Not every bride knows just which is the right dress for them. When this happens we do give our opinions to help you choose. The worst thing to do is worry or look online at 'models' in the gowns you like. I always tell brides to sleep on it and whichever dress they can't stop thinking about is probably the one!"
ACCESSORIES
Diana offers her words of advice …
A few other things to think about are your finishing touches.  Such as a veil, headpiece, jewellery or shoes are the glue that pulls everything together, but often get forgotten about.  Most boutiques will style you with some accessories, but ask to try some if they don't.  The one thing for me that just completes the bridal look is a veil.
Choosing your veil is a very personal choice and some brides haven't even considered wearing a veil until they try one on.  They are often seen as quite traditional pieces, but there are so many different styles which just ooze elegance and are in fact pretty timeless.  If you are hesitating about whether to wear one I would say go for it!  What other day in your life would you get the chance to wear one?!  If your gown is heavily embellished or has lots of detail than I would opt for something quite simple, or go for a veil that maybe has sparkle or a lace trim if your gown is more simple.  My personal favourite is the Cathedral veil, which is floor length.  It just looks so stunning as it falls to the edge of the gown and flows down the aisle! So dramatic!
If you don't want to wear a veil then a statement headpiece can also look just as dramatic, but you can wear both too :)!  When you are thinking about hair accessories I would have an idea of how you will wear your hair on the day.  Maybe have a chat with your hairdresser and trial a few options to see what works best for you and what different pieces will hold in your hair.  For example, if you were wanting to wear a comb or hair pins then they would need something to grip in to, so an up do would work better.  A statement headband or vine would work well on hair that was up or down.  Flowers are also becoming quite popular for a softer look and can be as combs, crowns or pins.
For stunning hair accessory ideas take a look at Harper Pearl Accessories …
Jewellery can also be your statement piece or just something simple.  Gowns that have quite a simple neckline, work great with a statement necklace, or wear a pair of simple drop pearl earrings with a gown that has more detail.  The gorgeous low backs that we are seeing on gowns work fabulously with a backlace too, which you could even just put on for your evening reception!
The beauty of accessories is that they can totally change your day to night look!  There's not many of us that wouldn't love to change their complete look numerous times during their day, but unfortunately for most it's just not possible!! So this is where pieces such as jackets, shrugettes, stoles, sashes or belts can also step in!  If you would like a bit more cover up in the day why not add a little lace shrugette or jacket? Feather stoles can help keep you warm in those colder months and would look fab in those outdoor shots!
One final thought, that brides are often just not sure about is lingerie.  Quite a lot of gowns come with built in support, be that boning or corsets which mean you don't really need to wear a bra.  Your bridal consultant will be able to advise you on this too. Of course you want to feel as amazing underneath your gown and there are lots of divine bridal lingerie brands out there now.  If you don't want to go the full hog then you could just add a gorgeous garter!
Hugest of thank you's to The Little Pearl & Dotty Bridal for all their input!
I really hope you found that useful as you start your wedding gown shopping journey xxx