Today on the blog I'm super excited to share some images from a gorgeous styled shoot & tell you about some exciting news!
Over the Winter I have been working hard behind the scenes to launch a new little venture, introducing …
I've always been a bit of a magpie … my mum would tell you that if there was anything shiny or sparkly within a 50 mile radius I would sniff it out!
Working in the Wedding Industry I am constantly admiring gowns, shoes, jewellery and accessories … so here is my little offering to that!
The inspiration behind the name, my gorgeous two year old Harper-Pearl, already a big fan of the bling & sparkle.
Pop over to my new Instagram page @HarperPearlAccessories and give me a follow.
The first collection is now live on my Etsy Shop – visit it by clicking here
So in the meantime let me share with you some of the pieces … whether you want a statement stand out piece, or a simple and elegant hair accessory there may be the one for you
Our look book with its contemporary hair styles, amazing florals & stunning gowns will spark inspiration for your own wedding day
With huge & heartfelt thanks to the awesome team behind the shoot:
Hair & Make-up: The sibling dream team that is Jade & Beth from Bow & Blush
Flowers: The magic fingers of Nicola at Dittany Entwined Floral Design for bringing this dried – metallic vision to life
Gowns: Shannon & the team at Dotty Bridal for providing the most amazing dresses
Photography: My lovely friend Lucille from Love Lucille Photography for shooting on the day allowing me to direct & focus on the vision
Venue: The fabulous space that is The Arches at Dean Clough, Halifax
Models: Huge shout out to the amazing Mollie, Megan & Sam for bossing it like pro's!

Iconic Harper … create the ultimate wow with this statement piece. On a wire vine this piece can be twisted to wear as a side accessory or for a more modern twist wear underneath a high bun …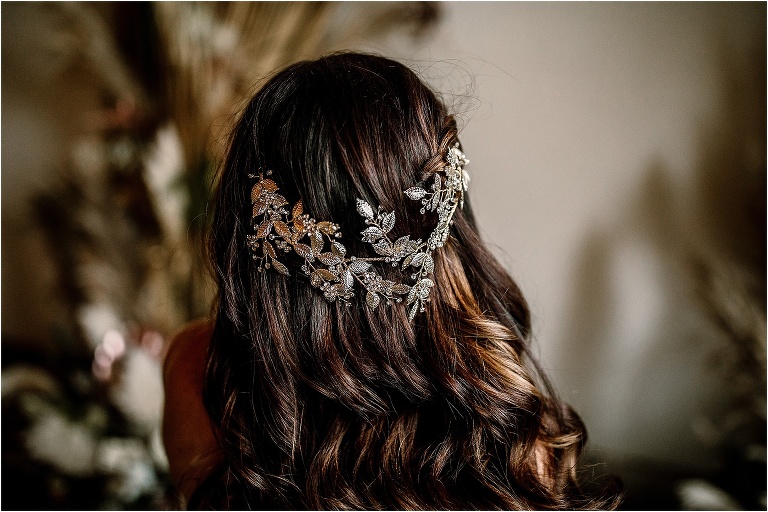 Beautiful Aria … three delicate chains secured by two hair combs. Each comb holding stunning pearl centred, hand painted flowers along with crystal embellished leaves. Wear at the back of the head or create a more Boho chic look by placing as a forehead chain.
Why not contact your florist about providing a floral crown to compliment your bouquet? Nicola created this stunning dried flower crown highlighted with metallics …

Elegant Orchid … delicate silk petals finished with three pearl stems this stunning hair pin really is a work of art. A classic, elegant and timeless addition to any hair style …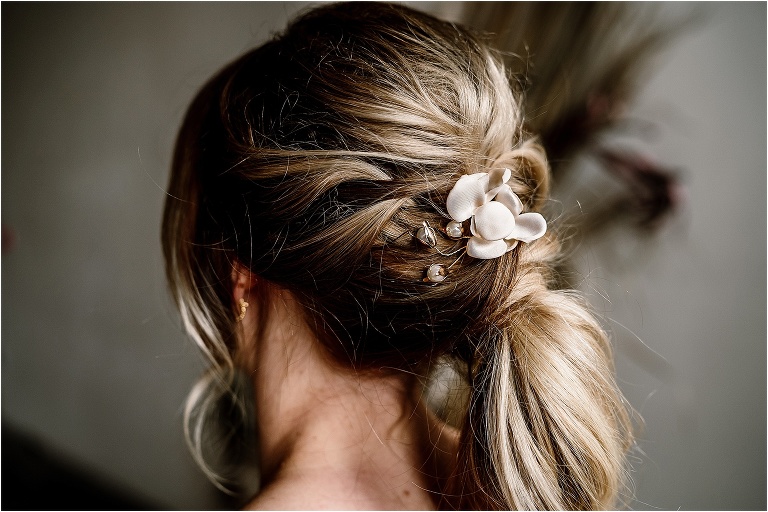 Pretty Primrose … two simple intertwined strands of diamante and pearls create a dainty and elegant head piece. Wear as a head crown, interweave down a braid or use to highlight a loose bun like below …
Exquisite Sienna … a versatile hair vine reflecting nature with pretty gold leaves and sprays of delicate round pearls …
Classic Pearls … a truly timeless and elegant look. This set of pearl combs and pins offers a truly versatile look. Cluster together to create a statement piece, or scatter about the hair for a more delicate look. Or why not keep one for yourself and share the rest across Bridesmaid hair?
Glamorous Maya … this exquisite hair comb is hand crafted with layers of texture and colour. Open daisies alongside sprays of opal, diamante and delicate leaves. Add a touch of vintage hollywood glamour …
Delicate Daisy … simple and dainty the daisy hair vine brings a touch of elegance. Dotted with open daisies and interspersed with delicate leaves & pearls. Place on the head as a beautiful crown or wear backwards as an alternative look. The ribbon can be removed to allow you to wrap through the hair or down a plait as you wish …
Blooming Fleur … an iconic hair pin featuring two open flowers with delicate pearls in the centre and sprays of leaves. Hand painted petals in blush pink with subtle nude tones to compliment any colour scheme …
Sparkling Iris … inspired by the celestial trend this trio of pins brings a modern look to today's bride. Shimmering stars surrounded by four delicate rose gold leaves. Wear clustered together or scatter across the hair …
Iconic Clover … simple, modern, striking and versatile. Three sizes of pearls hand twisted along gold wire to create an organic pearl band. Hugely versatile, this vine will twist and shape to hold as you wish. Wear as a classic hair band at the front of the head, or behind underneath a high bun for a modern twist. As an alternative wrap down a braid for a more relaxed look …
Budding Lily … Two delicate hair pins – closed flowers with sprays of white beads, adding a gorgeous touch of nature as a finishing touch to your hair …